Sign Up
Signing up is simple: just create a user on our Portal (if you don't already have one) and press the button below. There you can select your registration fee and select additional options.
Against All Flags is a crowdfunded project, which will come to life if we get enough participants before September, 30th. IF you want this dream to come true, get your spot NOW! We are counting on your help to spread the news and invite your friends!
If we do not manage to get enough signups to fill all the runs of Against All Flags, we will try to run at least some of them (e.g., by inviting interested players to switch to a run in the other language, or to a run of the other larp). If you are available to switch, you will be able to say so in the signup form.
If we get more signups than the available spots, we will give priority to: 1) Associate Producers; 2) Supporters; 3) The first five people to sign up with a Standard (or discounted) option; 4) People who are available to switch to a different language or run; 5) Everyone else, on a first-come-first-served basis. In that order.

SIGN UP! registrations will open on Thursday, July 21th, at h21:00 (Central European Time). Do not miss your chance to come aboard with us!
The larp will be confirmed if we get enough signups before September, 30.
ISCRIVITI! italiano SIGN UP! English INSCRIS-TOI! français
---
Supporters and associate producers
The philosophy of Terre Spezzate has always wanted to make the players participate in the realization of the events: for those who want, more expensive tickets are available as Associate Producer and Supporter, thanks to which you will allow the staff to create an even better event.
The Associate Producer and Supporter participants allow, among other things, to reserve a large number of places for those who cannot pay the entire fee, as well as for New players and Under25, giving us the opportunity to make the larp as inclusive as possible without giving up to the quality that distinguishes our events.
To thank you, if you want to select one of these perks, you will have priority on the selection of the characters, in addition of course to our eternal gratitude.
In case you are already registered, you can still change your participation fee at any time by accessing our portal from the button above. Thank you very much for your generosity!
---
Participation Options
Standard - 530€: basic participation fee. We kept it as low as much as possible, hoping that this will encourage many people to sign up as Supporters.
Supporter - 650€: by choosing this fee, you will get our gratitude, and priority on character selection.
Associate Producer - 720€: by choosing this fee, you will get our eternal gratitude and priority on character selection. Moreover, you will be able to ask the authors for small modifications to your character and to have a private cabin on the ship included.
To allow everyone to experience Against All Flags, we have provided several cheaper participation options. They all enjoy the same treatment as the basic registration.
Under 25 - 320€: if you were born after April, 17, 1998, you can choose to pay a reduced fee.
Subsidized - 320€: if you have no other choice, you can pay a reduced fee. Please note that just a few of those are available!
"Bring a friend": it is our policy that if you invite to a larp a person who has not yet participated in any Terre Spezzate event, you will get 20 "larp vouchers", that is a € 20 discount for any of our future larps. To report it, fill out this form when your friend signs up, or shortly afterwards. In the case of Against All Flags, for each new player you invite you will get a €50 discount (rather than just 20) and you will get it right now (for this larp, rather than for future larps only). Yes, that's right, find enough friends to invite to the larp and you can join this amazing experience for free!
Optional extras
Costume rental options, and other extras (bus, extra nights, blanket rental, weapons rental): see the "Practicals" page.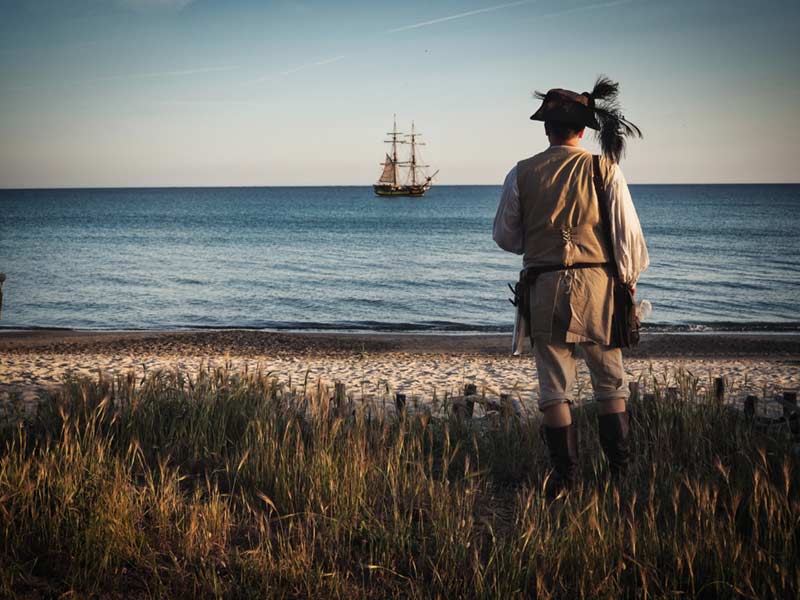 ---
Cancellations
Once we have reached enough signups, we will ask participants confirm their commitment by sending us an €100 down payment before Semtember 2022 ends. Later on, sometime in January, we may ask you to send us a second down payment, again 100€, to make sure you are still on board. The remaining fee will be paid directly on site.
The down payment cannot be refunded, nor transferred to someone else. If you cancel, please let us know as soon as possible!

If you cancel after March, 1st 2023, we reserve the right to ask you to pay, partially or in full, the remaining amount of the "Against All Flags" fee. If this is the case, you'll have to settle that debt in order to attend any other Terre Spezzate larp in the future.

---
Character selection

In March we will open the selection of the characters: all the participants will fill out a form in which they will insert their 6 favorite characters. The results will then be processed by an algorithm, set to try to satisfy as much as possible the requests of all players, while giving priority to Supporters and Associate Producers.
COMING SOON: See the "Characters" page, or the Character Gallery ENG, or Character Gallery ITA for further details.