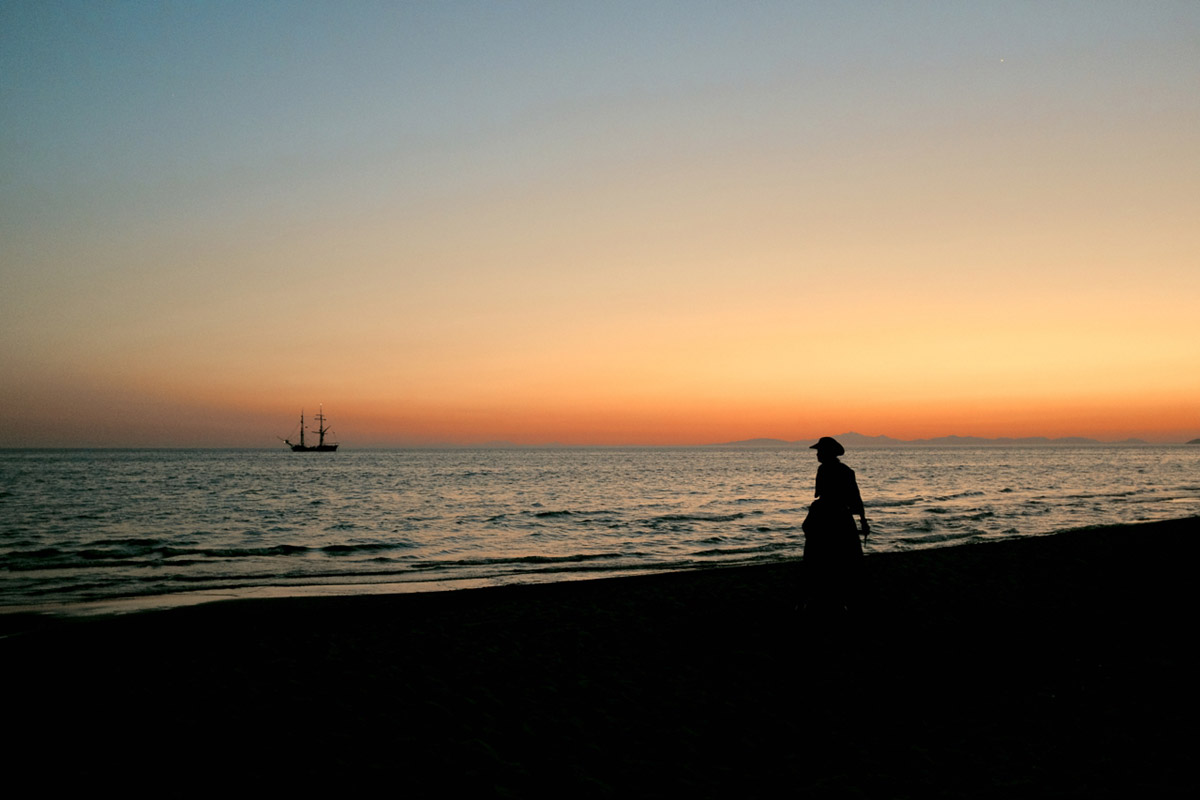 Experience
Live on real pirate ship!
Sail the Elba's seas with us!
Against All Flags will give you the opportunity and the privilege of sailing around Elba Island, aboard a spectacular sailing ship. You will enjoy the sea, the sailing experience, and at the same time immerse yourself in the adventurous and dangerous atmospheres of Libertalia. The pristine beaches of Elba and the Tuscan coast will be an unforgettable setting for this pirate adventure.
What you will find at Against All Flags:
Fight and Sail for Libertalia!: your pirate crew is sailing with one of the most dangerous pirate vessels of the seven seas, will you be able to make your dream of freedom survive? Will your names be written in the history books as heroes or as damned?

You're on a real tall ship!: the game will take place on a vessel sailing around the beautiful Tuscany Coast. You will live the story of your character, sleep and eat aboard the tall ship. Moreover, there will be landings to carry out missions, or simply to revel!

Round the clock shifts: a ship must be tended at all times; every participant will be assigned to shifts covering the whole day.

Crewing a Ship: seafaring is not only about harsh life. If you are bold enough to step aboard, you will experience the romance of the Age of Sail. You will have the chance to actually crew the ship, setting the course, taking the helm, trimming the sails, exploring faraway shores, diving in lovely secluded bays...
---
La Grace, a real Buccaneer Ship
We will sail aboard "La Grace", an incredible replica of a real tall ship from the second half of the 18th century. La Grace cruises the seas and oceans to bring sailing history to life. La Grace's crew arranges cruises on their historical ship for all interested people, together with training in marine crafts and their proud traditions.




According to available sources, La Grace was the name of the ship belonging to the first real Czech seafarer Augustin Heřman. He crossed the Atlantic several times in the service of the Dutch West Indies Company; later on, when out of service, he started his career as a privateer, raiding Spanish trade ships with La Grace. Eventually, he became the largest exporter of tobacco in America.
The ship's construction was begun in late 2008 in a professional shipyard in Egypt. La Grace was launched on water on 5th December 2010. The main reason for choosing that shipyard was the fact that there the boats and ships were still being built in the traditional way.
La Grace's Facebook Page
Enjoy yourself abord the La Grace!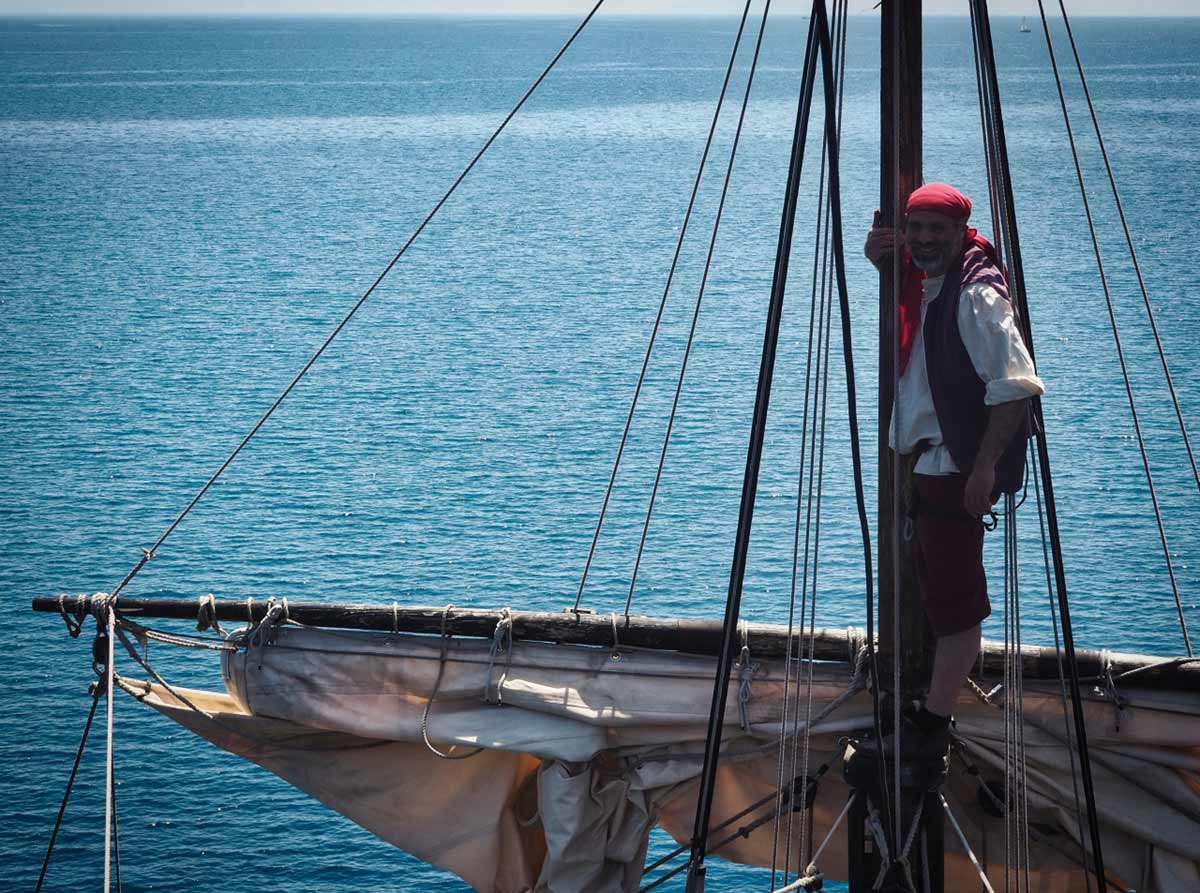 ---
What to carry aboard
MANDATORY
Historical-looking cloth sack, knapsack or duffel bag, not too big
Warm blanket, in dull colors (ie, not too modern-looking)
Bed sheets and pillowcase (pillows are on the ship)
A heavy sweater
A small towel
A small sack containing your toiletries
Two or three appropriate shirts or jersey, possibly with long and short sleeves (for example Telnyashka, Armor lux or other striped shirts)
One or two pairs of simple historical pants
A few socks and underpants
Boots or other historical shoes; note also that you can always stay barefoot on the ship, but in the evening it may be cold.
OPTIONAL
Historical-looking Gloves for working with the ropes
Thermal underwear
A warm and long coat
Warm simple hat
Note that every dress on this list can be adapted/modified for your character. So this is only meant to be a general reminder of what is necessary on the ship.
FORBIDDEN
Any kind of modern-looking or rigid luggage. For example suitcases, trolleys, backpacks and the like (except for very small containers easy to keep out of sight, like your toiletry bag or wallet
Sleeping bag (please, carry a warm blanket instead, or rent it from us)
Too much luggage (please only carry aboard what would fit in an airplane hand-luggage, typically 55x40x20 cm; hats, weapons, in-game coats and the like do NOT count against that limit)
Anything that you won't need aboard. Please leave us your spare offgame clothes, extra suitcase etc., we'll store them safely ashore and return them to you when the larp ends.
Hairdryers. The ship's generator can recharge your phone, but it cannot operate high-consumption electrical devices.
Any kind of illicit recreational drugs, including cannabis. La Grace's crew is very strict about this, because laws about carrying controlled substances on ships are much harsher than on land. Please respect the crew and have fun with grog instead!
As you may have noticed, in order to preserve the atmosphere, we are trying hard to minimize the amount of modern-looking items aboard during the game. The available space on a ship is limited, and "hiding" modern stuff would be difficult. So we expect players to carry cloth sacks rather than suitcases, and wool blankets rather than sleeping bags.
Obviously, we will make exception for anything you actually need - eyeglasses, medical devices, toiletries and so on.
If you do not have a warm, not-too-modern-looking wool blanket, or if it's too unconvenient for you to carry it by plane, you can rent it from us for €10.
If you cannot find a nice-looking cloth sack, leather bag or the like, we will lend you a simple, open burlap sack. Please note that we expect players to put their clothes and stuff directly in the burlap sack - not to put them in a modern suitcase, and then wrap the suitcase in the sack.
---
Weather at sea
The sea may look quiet and beautiful from the coast, but every brave seaman must be ready to challenge its fury anytime. For this reason we recommend that every participant is prepared and aware that we aren't in control of the weather. May in Central Italy is quite warm, but there may be some rains, or a cold Spring. In any case the temperatures will likely range from 15 °C (59 °F) during the night, to 25 °C (77 °F) or more during the day; in full sun, it may feel considerably warmer than this.
A useful tip is wearing layered clothes so that you can decide at any time to remove layers or add them. If you think you are sensitive to the cold, take a warm sweater to wear under your costume; bring some water repellant piece of clothing and an extra blanket for sleeping.
See "costume rental" in the Practicals page!